May 2014 Legislative Summary!
May Interim Session

Following the completion of the general legislative Session begins the off-season, or "Interim" Session. Once a month we meet in committees comprised of both House and Senate members and begin to craft and discuss proposed legislation for the 2015 session and other issues on the Master Study list. Over this interim period I will be serving on the Judiciary and Political Subdivisions Interim Committees.

Items discussed by the legislature during the Interim Session include:
The condition (not good) and future of the Utah State Fair. See article here.
The status of Utah' s Higher Education system. Article here.
Potential regulations for the title and escrow industry.
Presentation regarding technology and expansion of governmental radio communication systems.
Presentation regarding new campaign finance laws. See summary here.
Potential regulation of electronic cigarettes.
Presentation regarding existing programs and plans to improve the criminal justice system in Utah.
Heard comments about conditions at mobile home parks. Voted to create an informal ad hoc working group to discuss issues relating to mobile home parks.
Received a committee staff briefing regarding how to provide better death benefits for families of officers who die in the line-of-duty. See summary here.
Discussed how to solve a projected huge shortfall in transportation funding over the next two decades.
If you have issues or concerns, please contact me. I am already working on several pieces of potential legislation with constituents for the 2015 session and would love to hear from you.
Other items
Pioneer Crossing Bridge Grand Opening
I was privileged to participate in the Pioneer Bridge ribbon cutting this last Saturday morning. This bridge commemorates the crossing of the Jordan River by the first pioneers to settle west of the river. The new suspension bridge is next to the Cultural Celebration Center in West Valley. It was wonderful to see so many West Valley residents attend this great community event. As shown in the photo below, it was also great to meet with other community leaders, including Mayor Ben McAdams, County Council Member Amy Winder Newton, and City Councilman Steve Buhler.
For each bill that's passed by the legislature, the governor has to sign the bill into law. For bills that the Governor views as particularly significant, the Governor has a "ceremonial" bill signing. Thanks to the Governor for inviting me to participate in two ceremonial bill signings where I was the sponsor. The first was for the "revenge porn" bill, which prohibits distribution of intimate images of another without that person's consent. The second was for my campaign finance/ethics bill, which made significant and needed changes to our State's campaign finance laws. Here are some photos of the events. More importantly, thanks to all those who helped passed these important pieces of legislation.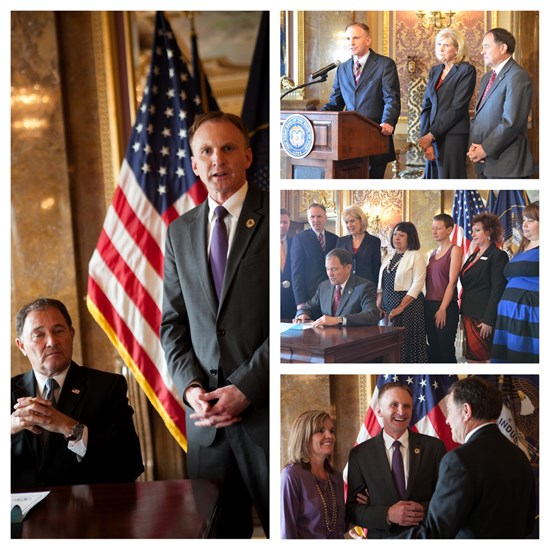 Rep. Hall Named as "Business Champion" by Salt Lake Chamber of Commerce
Many of you know that Utah has been recognized as one of the nation's best-managed states. This doesn't happen by accident. It happens because there exists an environment where people and organizations can succeed. The Salt Lake Chamber of Commerce is committed to making Utah's business community thrive.

This year, the Chamber has recognized various legislators who, with their votes, demonstrate support for a pro-economy and pro-business environment. Thanks to the Salt Lake Chamber for this recognition!
As most of you know, I am running for re-election in 2014. I feel great about what I have accomplished over the last 17 months. But there's more to be done! Things are going fantastic with the campaign.

Some of my accomplishments over the last 17 months include:
Passing the most significant piece of legislation in several years dealing with campaign finance / ethics in Utah.
Recognized as one of Utah's "most effective" legislators.
Passing bills protecting and helping victims of sexual abuse.
Passing several bills guaranteeing greater fairness in Utah's election process.
Named by the Salt Lake Tribune as a "refreshing example of bipartisanship."
Sponsoring and passing bills making our State government more transparent and accessible.
And more!
I received the republican nomination in April, so I do not have primary election, and my name will not be your primary ballot on primary election day (June 24). But we're looking forward to a successful November!

Thanks to all those who have helped so far. We have a lot of work ahead of us between now and November. If you would like to help in any way with the campaign, please let me know!

Also, unfortunately, political campaigns have become incredibly expensive. We have thousands of brochures to purchase, hundreds of yard signs to order and dozens of other miscellaneous costs, I would love your help. If you're willing and able to contribute, you can donate here: http://votecraighall.com/contribute

Thanks! We're looking forward to a successful November!