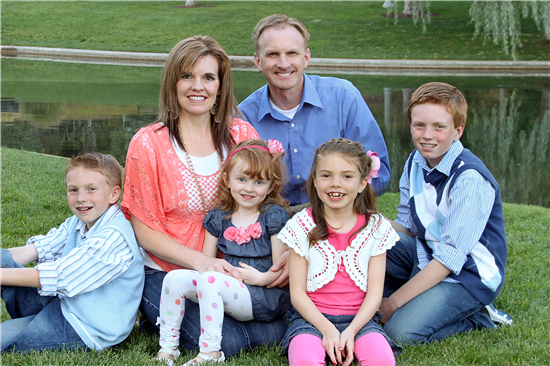 CRAIG HALL
Representative
Utah State House of Representatives - District 33
News
Monday, March 18, 2013 11:58 PM
I just wanted to thank everyone for the help and support during the legislative session. Thank you for all the comments, emails, returned surveys, phone calls and visits to the Capitol. It is truly an honor to represent District 33. I feel like we did some good work. We still have plenty of work to do, but we're heading in the right direction.
One of the areas where we made some decent improvement was our education system. Education was by far the highest priority in this General Session, with local schools, colleges and universities receiving over 70% of available new revenue, including capital facilities and economic development initiatives.
The legislature funded nearly $70.0 million in public education student enrollment growth and spent more than $45 million to increase public education's base formula by two percent.
My priorities will continue to be: (1) a top-notch education system; (2) a strong economy; and (3) effective representation for West Valley at the State Capitol.
Here is an article from the Salt Lake Tribune that recognized my dedication to our West Valley schools. Thanks to the Tribune for the article. And thanks to all the District 33 constituents for your support!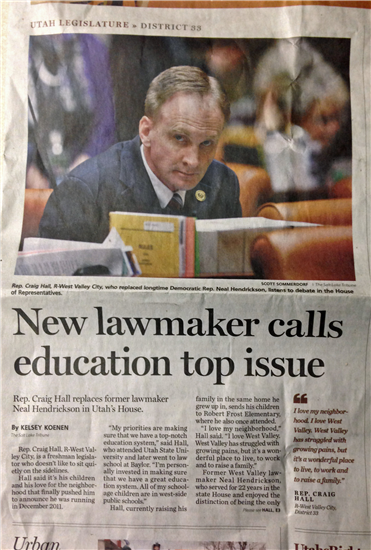 Here's a link to the entire article: http://www.sltrib.com/sltrib/news/55922504-78/hall-utah-west-http.html.csp
---
Monday, March 18, 2013 11:50 PM
Legislative Week 7 (and final) Summary: http://t.co/fgWCp5pX9U
---
Monday, March 18, 2013 11:43 PM
Legislative Week 6 Summary. Click here for all the details: http://eepurl.com/wx6Pj
---
Monday, March 4, 2013 3:06 PM
The Town Hall meeting previously scheduled for Tuesday, March 5, has been CANCELED. Sorry for the cancelation. I have a legislative schedule conflict. The Town Hall meeting on Saturday, March 9 will go on as scheduled.
---
Monday, March 4, 2013 3:03 PM
Legislative Week 5 Summary: http://eepurl.com/wbOMv