Representative CRAIG HALL
Utah State House of Representatives - District 33
News
Saturday, October 22, 2016 11:40 PM
---
Saturday, October 22, 2016 11:24 PM
As the ONLY candidate in this race formally endorsed by the state-wide and Granite School District teacher organizations, I was invited to meet with the teachers at the Utah Education Association Convention on Friday. Thanks teachers for all you do and for your support!
---
Monday, October 17, 2016 10:36 AM
**EVERY VOTER WILL RECEIVE THEIR BALLOT IN THE MAIL!**

Salt Lake County officials decided to conduct this election primarily through the mail. Accordingly, EVERY VOTER WILL RECEIVE THEIR BALLOT IN THE MAIL (whether you asked for it or not). This is what ballots look like. Don't throw it away. It is your official ballot.






The easiest way to vote is to just return the ballot by mail (no postage necessary). If your ballot is mailed, it needs to be postmarked by Nov. 7 (day before the Nov. 8 Election Day). Make sure to sign your ballot in the designated spot before returning it.

Other options, including early voting, dropping off your ballot to a secure drop box location, or Election Day voting can also be found at the Salt Lake County Elections Office website:
https://slco.org/clerk/elections/current-election-information/
If you don't receive your ballot in the mail by the end of this week, call the Salt Lake County Elections office at 385-GOT-VOTE (385-468-8683).
---
Tuesday, October 11, 2016 9:53 AM
Ribbon cutting at West Lake STEM last week! So great to see and visit with so many friends and neighbors. The changes underway at West Lake are phenomenal. It is, and will continue to be, a wonderful community resource. Thanks to Principal Howe and the teachers for all your great work. Go Mustangs!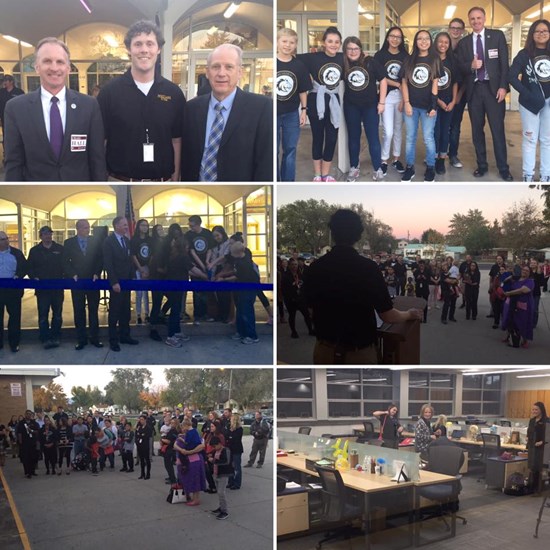 ---
Tuesday, October 11, 2016 9:00 AM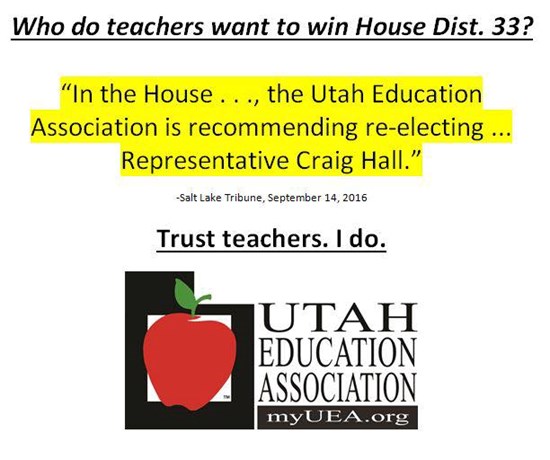 ---
Saturday, October 8, 2016 9:56 PM
September's Interim Session was eventful. The legislature discussed topics including education, the state earned income tax credit, reducing opioid overdoses in Utah, improving air quality, UDOT, etc. Click on the link above for the details.
AND, it's ELECTION SEASON! Thanks again for all your support! VOTE CRAIG HALL!!!
---
Friday, September 30, 2016 8:33 AM
Thanks for your endorsement Mayor Bigelow!

"Over the last several years, Rep. Hall has proven an invaluable partner as West Valley city officials interact with the state legislature. House District 33 has been well served with his capable leadership. Rep. Hall has provided strong representation for West Valley and I strongly endorse his re-election campaign as State Representative." - West Valley Mayor Ron Bigelow
---
Sunday, September 18, 2016 12:39 PM
So humbled to receive the endorsement of the Utah AFL-CIO. OUT OF THE TWO CANDIDATES IN THIS RACE, THE UTAH AFL-CIO CHOSE CRAIG HALL!
The Utah AFL-CIO represents the interests of working families, and is an umbrella organization for dozens of employee groups in Utah, including steelworkers, fire fighters, letter carriers, railroad workers, electrical workers, etc.
Thank you for your confidence and continued support!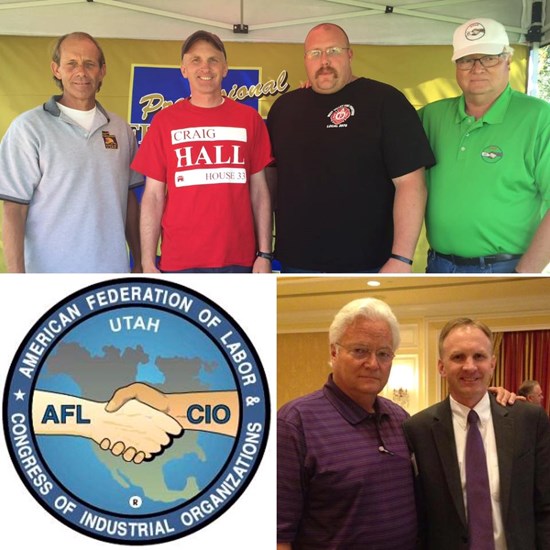 ---
Friday, September 9, 2016 9:34 AM
Hope you had a fun and safe August!
Lots of things happening in August! Visit to the Capitol by SLCC students, neighborhood breakfasts, service projects at a local elementary school, bipartisan softball game, and LOTS of campaigning.
Thanks again for your support and for contacting me regarding any issue you would like to discuss.
---
Friday, September 9, 2016 9:07 AM
It's hard to believe, but we are 60 days away from Election Day. We have been busily reaching out to voters within District 33 through knocking on doors, being part of community events, meeting voters at events and on their front porch, putting up signs, etc. It has truly been an honor representing the great folks of District 33. I feel good about what we have accomplished over the last few years and look forward to representing my neighbors for another term at the State Capitol.
I just wanted to share a Facebook post from a wonderful constituent. Her family is helping to spread the word regarding our campaign. I've highlighted my favorite part. :)