Representative CRAIG HALL
Utah State House of Representatives - District 33
News
Sunday, September 18, 2016 12:39 PM
So humbled to receive the endorsement of the Utah AFL-CIO. OUT OF THE TWO CANDIDATES IN THIS RACE, THE UTAH AFL-CIO CHOSE CRAIG HALL!
The Utah AFL-CIO represents the interests of working families, and is an umbrella organization for dozens of employee groups in Utah, including steelworkers, fire fighters, letter carriers, railroad workers, electrical workers, etc.
Thank you for your confidence and continued support!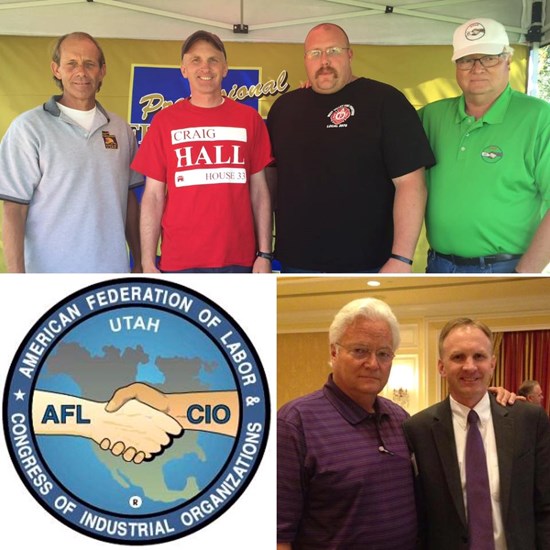 ---
Friday, September 9, 2016 9:34 AM
Hope you had a fun and safe August!
Lots of things happening in August! Visit to the Capitol by SLCC students, neighborhood breakfasts, service projects at a local elementary school, bipartisan softball game, and LOTS of campaigning.
Thanks again for your support and for contacting me regarding any issue you would like to discuss.
---
Friday, September 9, 2016 9:07 AM
It's hard to believe, but we are 60 days away from Election Day. We have been busily reaching out to voters within District 33 through knocking on doors, being part of community events, meeting voters at events and on their front porch, putting up signs, etc. It has truly been an honor representing the great folks of District 33. I feel good about what we have accomplished over the last few years and look forward to representing my neighbors for another term at the State Capitol.
I just wanted to share a Facebook post from a wonderful constituent. Her family is helping to spread the word regarding our campaign. I've highlighted my favorite part. :)
---
Friday, September 9, 2016 9:02 AM
Thanks to the Westwood neighborhood for an invite to their annual breakfast. Great turnout. Over 140 attended! Wonderful tradition. Amazing cooks (including our very own City Council member Steve Buhler). Great seeing familiar faces and meeting new friends. West Valley residents are the best. Thanks for your support!
---
Tuesday, August 30, 2016 11:17 PM
Thanks to Stansbury Elem. and Molina Healthcare for putting together a great activity for our community this Saturday. Free school supplies, backpacks, shoes, vision screening, haircuts and more! Fantastic turnout. Easily over 1,000 attended. It was wonderful meeting so many of our neighbors!

It was also great speaking with Principal Broderick about how we can best work together to help the fantastic residents of Dist. 33 and West Valley. Thanks for the invite!