Representative CRAIG HALL
Utah House of Representatives - District 33
News
Friday, June 26, 2015 3:16 PM
Hopefully your summer is going well and is full of backyard barbecues, family reunions, ice cream, hikes in our beautiful mountains, and spending time with those you love. I hope these reports are a good resource for tracking the work of the legislature as it continues during this interim period. Click above for the full report!
---
Monday, June 1, 2015 9:08 AM
May has come and gone! The legislature had its first interim session of 2015. We discussed various topics, including what education should look like in the year 2050, air quality, UDOT, and medical marijuana! Click on the link above to read all the details.
---
Monday, May 4, 2015 2:11 PM
It has been almost two months since the end of the 2015 general legislative session. Click on the above link to see some examples of what the legislature does during the rest of the year.
---
Tuesday, April 21, 2015 3:58 PM
CAMPAIGN FINANCE REFORM. I sponsored two bills this year improving campaign finance laws. The Governor did a ceremonial bill signing last week recognizing my efforts. Thanks to all who helped with the bills. And thanks to my family for being there with me.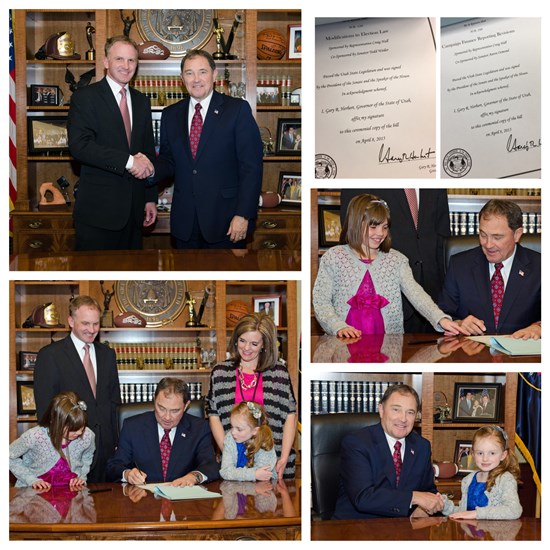 ---
Monday, April 20, 2015 11:01 AM
Many of you know how much former Governor Bangerter is respected throughout the West Valley community. Thanks to him and his family for their service and sacrifice. My condolences to his family and may he rest in peace.